Why the Eltz Castle?
Right, the Eltz Castle (Burg Eltz in German). If you're all about social media, you've probably seen it recently since the hype is seriously on the rise. And frankly, quite rightfully.
This castle is for sure one of the most picturesque medieval apartments, I've ever seen.
Eltz is planted quite peacefully and unusually in a valley (not on top of the highest hill which makes it a dream for photographers). It is surrounded by lush forests and by a small river carving almost a full circle around it.
*Disclosure: This article contains affiliate links. If you use these links to purchase any item, I will get a small percentage which helps support my work at no extra cost for you. Any recommendations on this website represent my honest opinion.
There is basically no distraction in terms of modern buildings, power lines, roads, etc. Even the parking area is not located directly at the site (you must walk for about 10 min downhill or take a shuttle for 2 EUR). All this together will transport you 500 years back in time.
Arriving in the Rhein-Mosel area (the real name is Rheinland-Pfalz) might make you think, whether you've chosen the right castle. Reason? There is simply so many!
Seriously, if you're into medieval buildings, going by train along Rhine and Mosel will most likely be the ride of your life. What I'm trying to say is that there is a couple of other castles that would definitely deserve at least as much attention as the Eltz castle. Just saying. 🙂
---
How to get to Burg Eltz?
Getting to the area by car or train
Well, obviously, first you'll need to get to Germany. Since Germany is big, somewhere in the mid-west will do best (sounds almost poetic). If you have a car, just smash "Burg Eltz" into your GPS.
If not – no problem, you can easily go by train to one of the nearby villages! I personally recommend the village called Moselkern as your base camp. Another option would be Müden (a bit further) or Wierschem.
The last one is not reachable by train, which I found too complicated. Nevertheless, Wierschem is known as the "Eltz town", so you might want to check it out.
You can easily book (and even save for booking in advance) your tickets online on bahn.de. Print them out or download the bahn.de app.
Going by train from Frankfurt: I briefly describe this option since it's a very likely one. Take an IC train from Frankfurt Hbf (the main station) to Koblenz. You can even departure directly from Frankfurt International Airport if you wish to skip visiting Frankfurt. The train ride to Koblenz will take about 1.5 hours and is really enjoyable – I promise you passing at least one castle every 5 km. When you arrive to Koblenz, you'll need to change for a small regional train (most likely it will be called "RB" + a number, e.g. RB81) in direction Trier. If you'd like to follow my tips, you'll get off in Moselkern.
Hiking to the Eltz castle from Moselkern
The reason I chose Moselkern was not only the simple train connection but also the short distance to the Eltz Castle. The hike to the site takes about 1 hour 15 minutes from the Church in Moselkern.
Or 55 minutes if you decide to see the sunrise and walk with a headlamp through the dark foggy forest. Alone. In the middle of the night. At least I wasn't scared.
But back to the hike – it is fairly easy. You'll sweat a bit, yeah. But no hardcore hiking. Also, the route is well maintained, mostly 1-2 person wide. It gets a bit slippery when wet.
Directions: Start at the church. When you're standing in front of it and looking at it, start walking to your left. The road will lead you into a right-turn and through a rail underpass. Now you're on the right track! You'll walk on the asphalt road until you get to a bridge with a sign for hikers sending you off the road to the right. From now on, just follow these signs. Always look for "Burg Eltz".
Photographing the Eltz castle
I counted at least 5 cool photo spots at the location (please comment if you find more!) which I marked on the map below. As mentioned in the beginning, this place is very touristy. In general, you won't mind tourists at the upper spots. They could be quite distracting at the lower spots.
Sooo, why not coming for the sunrise? I tried it out myself. The night hike was a bit adventurous but because I hiked to the castle the previous afternoon and because I had a headlamp (necessary!), all went well.
The Eltz castle is such a treat for photographers! So often in the morning, there is a thick cloud of fog rolling through the valley and around the castle.
I was lucky as well and as a bonus, I had the entire place for myself. Bring enough time as it can take a while before the fog dissolves enough to see the castle. By the way, the castle's opening time is 9:30 – 17:30 (only relevant for the building, not the area), so plan your shooting accordingly.
Photography Spot A
Morning location due to better light and fewer people; the first spot when arriving at the castle from Moselkern – I found it interesting as it is not photographed so often :); you can use the staircase as a leading line to the castle; wide lens recommended!
Also, since you're shooting against the sky, keep checking your histogram!
Photography Spot B
Morning location due to better light and fewer people. Unless you go for very long exposures and maybe some exposure blending, it is almost impossible to shoot there during the day. THIS is the most famous spot.
Try experimenting with the low walls as leading lines and with different perspectives; great when foggy!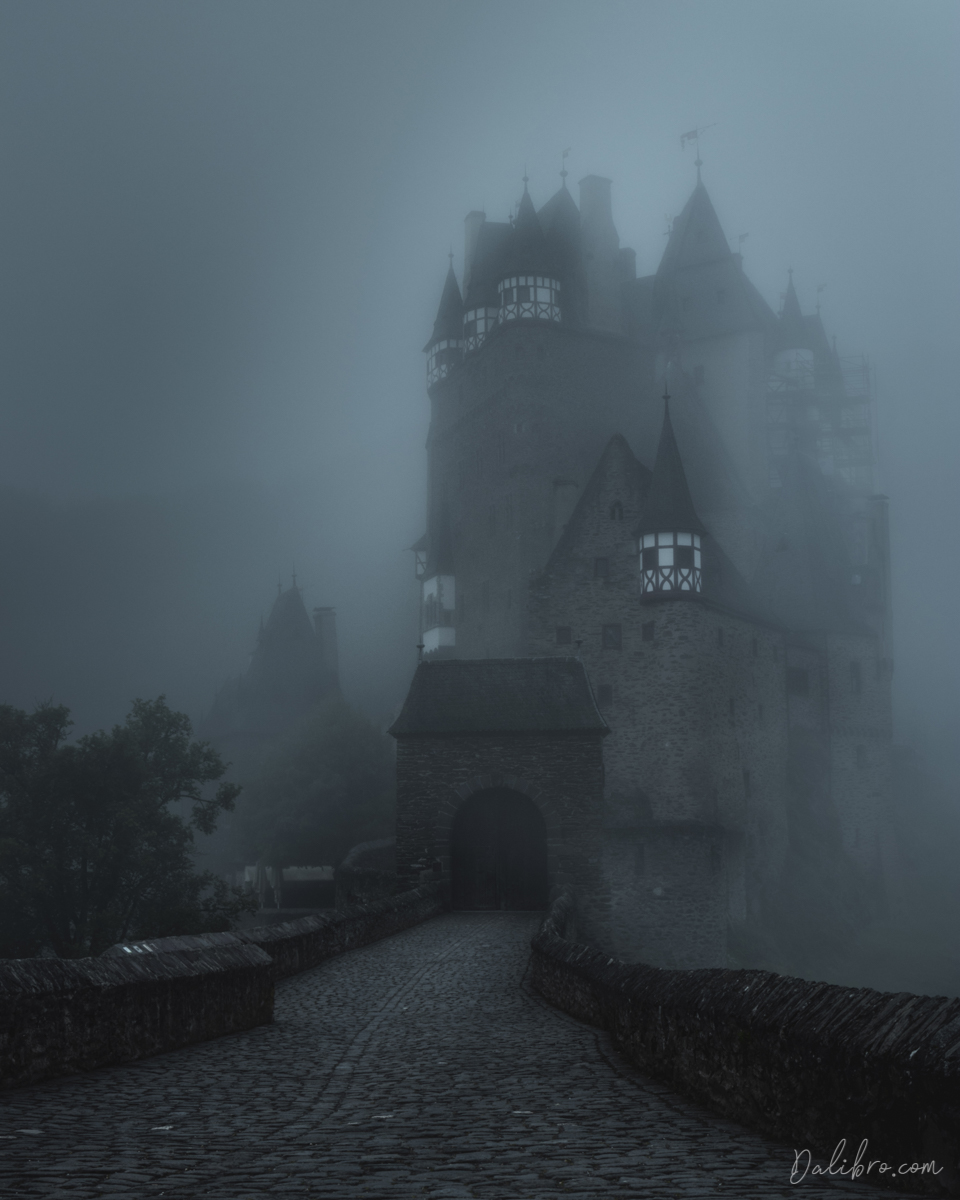 Photography Spot C
I didn't try this one as on this side there was a large scaffolding (mid-May 2018) but it looks like a good sunset spot!
Photography Spot D
All-day location; walking up to the parking, you'll get to this curve which offers great views slightly from the side and is far enough so other people are not distracting; not the best point in the early morning though – they park the shuttle bus (big red van) right at the main gate from the inside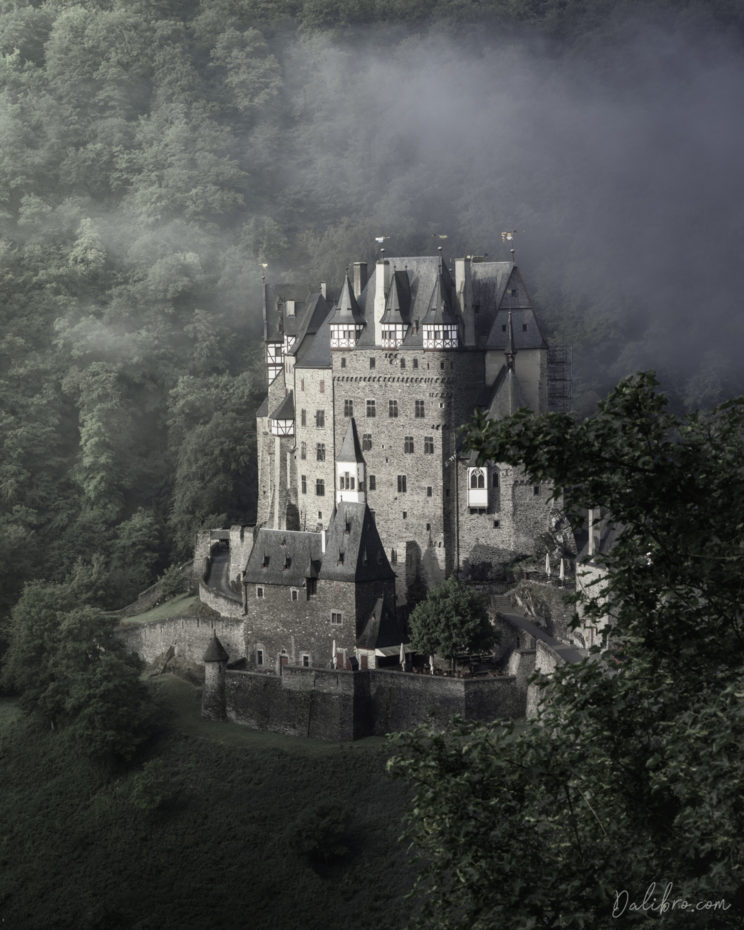 Photography Spot E
All-day location; keep walking up towards the parking area until you get to a viewpoint on your left; this spot offers phenomenal, almost drone-like views of Burg Eltz; the best place to watch the fog rolling in the morning! Speaking of drones – flying a drone is not allowed in the entire area (incl. all the forests around).
Last but not least – if you have a tall tripod, it's a good idea to bring it. It will help you to eliminate the fence and bushes at the upper spots.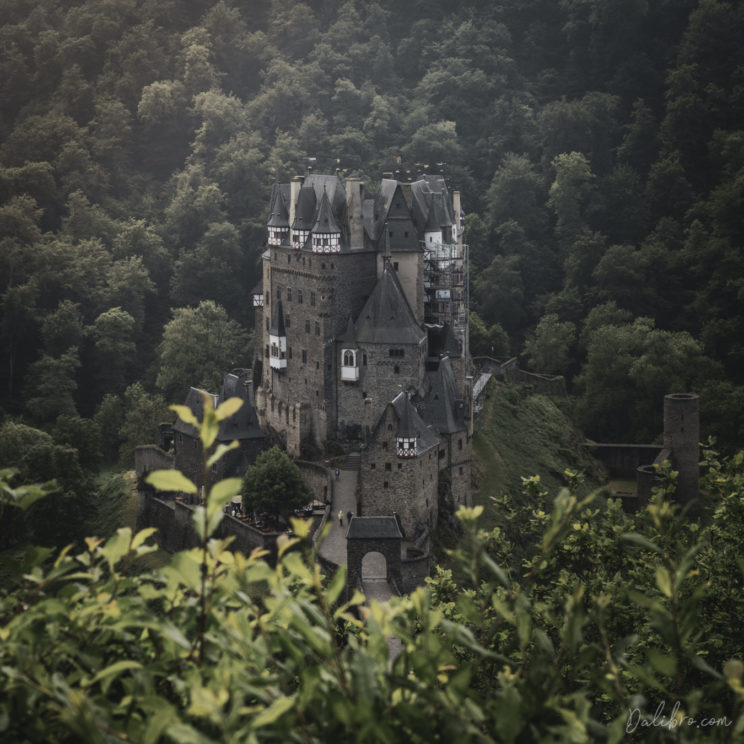 Staying in Moselkern
If I'm honest, the village is with its 600 inhabitants quite a sleepy place (Are maybe weekends different? Let me know!). I had the feeling most people just pass by. The only café was closed. There was only one other person in my hotel (Hotel Moselkern).
I kind of liked it anyway – it has a small church, a unique stone with a depiction of Jesus' crucifixion, a beautiful town hall. It feels somewhat authentic. If you require more human contact, check out the local guesthouses.
---
What else to do?
There is really enough to see in the area! You can pretty much stop in any village on the way along Mosel (and along Rhine, as I wrote previously) and you'll have a great time. There are tons of hiking trails everywhere around.
I chose Cochem as my next stop (15 min train ride from Moselkern direction Trier). It is one of the largest towns around (ca. 5.000 inhabitants) and very touristy. You can go for a boat trip from there if that's your sort of thing. The historical centre is beautiful!
My first shot requires some effort – it is from a place that overlooks the entire town of Cochem with focus on the Cochem castle.
To get there you'll need to walk up first, almost to the castle. At the last junction before the castle (there is a big tree and some banks) you'll turn right and follow the sign "Drei Kreuzen" ("Three crosses").
This will lead you up to a small chapel. Right at the chapel, you'll see a narrow trail going further up through the woods. It will lead you to the road. Be extremely careful as it's quite busy. You'll walk around 50 meters to the right which will get you to the viewpoint.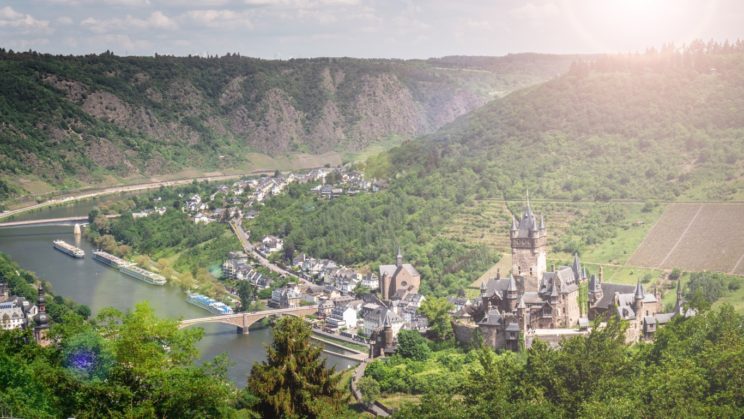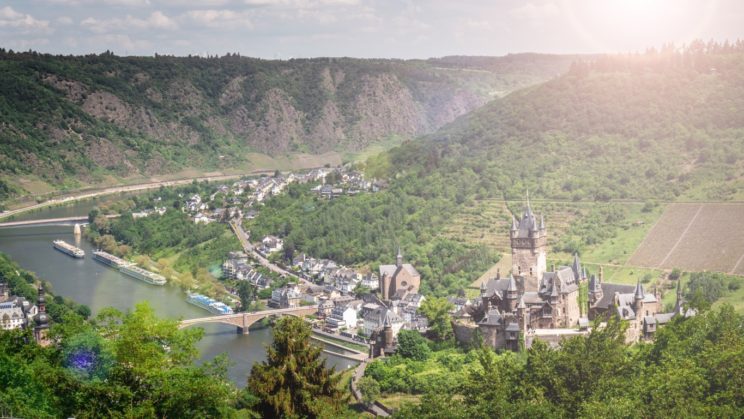 My second shot was less difficult – cross the bridge in Cochem and enjoy a beer. That's it!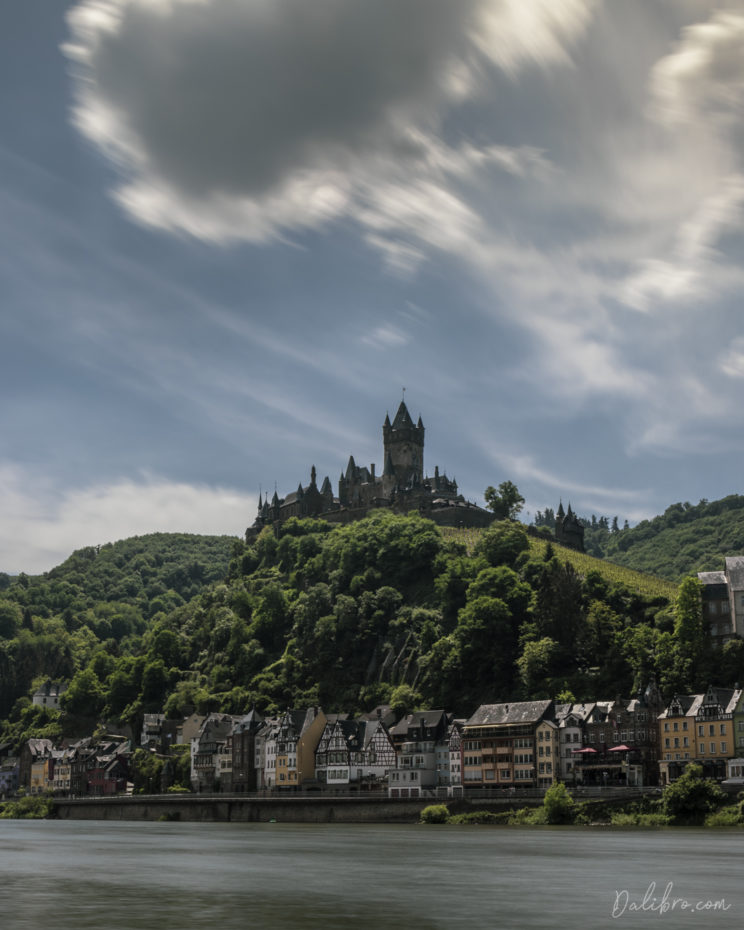 ---
Pin this for later: