Why even bother with other landscape photographers' work?
Looking for some truly inspirational contemporary landscape photographers to follow? In this post, I selected 10 photographers who I consider the top guns in the field.
And then I counted them and realized, I have 11, soooooo…
Disclosure
This article contains affiliate links. If you use these links to purchase any item, I will get a small percentage which helps support my work at no extra cost for you. Any recommendations on this website represent my honest opinion.
Do you wonder why even bother with someone else's work? Well, I am convinced that no great idea ever materialized out of thin air. Even in photography.
I believe that creative ideas are based on the foundation of a fascinating chain of associations. And let's be honest – that chain often starts with mimicking other artists.
However, as you go, you start adding your own ideas. You develop your own approach to photography. As a result, one day, it might be you who becomes an inspiration for the others.
Random example: Look at China – for many years, China was known as the world's biggest copycat. Get technology from the West, reverse-engineer it and produce at a fraction of the original cost – that was the goal. Look at China today – although these practices still exist, suddenly, there is also huge innovation force as well. DJI cameras and drones being one hell of an example.
I also find it quite entertaining, how we mimic other photographers in the beginning. The first things I used to be interested in when I seeing an amazing image were: which camera the artist used and where it was taken.
Later, we get more interested in what the image feels like, how the light, shapes, and colours hold it together. What was the technical process? What was the thinking behind its composition? These questions are so much more interesting!
About this list
I know there are tons of amazing artists out there, that I don't even mention.
Please consider this selection only as my personal recommendation to follow some (maybe) new faces.
Important note I: I chose each of these landscape photographers very carefully and for different reasons. Similarly, the number of their social following was absolutely irrelevant! And despite the order, there is no order, OK? I mixed them randomly. 🙂
Important note II: I used Instagram to showcase their work but you guys know that I rather despise the platform. If you're feeling generous, please visit each artist's website to see the images in their full beauty! Many of them also have a YouTube channel, sell prints and offer workshops. Ya know wha' I'm sayin?
---
And we kick off with a star. Thanks to his awesome YouTube channel, T-Heat is probably one of the best-known landscape photographers right now.
But Tom is not only a YouTube personality, he truly is a very talented photographer, too.
Images that Thomas Heaton publishes often have pastel colours and feel simply very natural. This is also supported by his very subtle edits.
His compositions are usually very clean, well-balanced and thought through.
My favourite image by Tom
This was a toughie – I have at least 5 images by Tom, that I really love. In the end, I chose this one from Patagonia.
It feels very artistic and subtle, despite Torres del Paine being such an obscene photography location. To me, this image is like a black & white bodyscape photo on a page of a gentlemen's magazine. No easy quest!
---
Speaking of YouTube, Ben Horne is the proud owner of possibly one of the oldest photography YouTube channels out there. But again – behind the YouTube aura, there is the fundament of an extraordinary landscape photographer.
When you say 'Ben Horne', I think of the Zion National Park, conservationism and of large format cameras.
Ben is not someone hunting big vistas for Instagram but rather someone who cares deeply about the locations he photographs.
And looking at his images, you really can tell. Ben's portfolio includes many intimate landscape images that create that kind of loving connection between you and the photographed location.
My favourite image by Ben
Finally, not an easy decision but it had to be one of the intimate landscapes. Such scenes are overseen by 99% of landscape photographers, so I really appreciate the ability to see those little stories.
---
Lesley comes originally from Switzerland but moved to Iceland to follow her photography passion. If you think Iceland landscapes can't surprise you anymore, wait until you see some of Lesley's images! You go, girl!
Lesley Brügger is the queen of minimalism. As the saying goes – 'a composition is final, when you cannot remove anything from it'. That's the unifying element of her images.
Lesley's photography is not minimalist only in terms of composition but also colours – most of them being black and white or with muted colours.
My favourite image by Lesley
I know, I know – not really a landscape but this image is the one that pops up when I think of Lesley's images. Straight out of a Hitchcock's movie!
---
I came across Neil's photography thanks to his images of the Dartmoor forest, which really made the headlines. But his portfolio is so much more than only woodland photography from this amazing location!
Neil's woodland images are somewhat mystical, almost haunted. The second look often shows how well thought-through they are in terms of composition. Right now, I'm totally on the NB trip, NB-licious. When I grow up, I want to be like Neil.
You should also not miss Neil's minimalist photos and his macro photography work. Both absolutely stunning!
My favourite image by Neil
It had to be the "Empire". But as I mentioned – check Neil's minimalist images too!
---
Alexa is a great landscape photographer and also one of the funniest people to follow on social media. The world needs more photographers who don't take themselves too seriously.
Alexa's portfolio (landscapes, seascapes, cityscapes) is something I would call a happy portfolio.
Her images are often bulging with beautiful sunsets and sunrises. They are so colourful and alive.
My favourite image by Alexa
---
Simon is another landscape photographer / YouTuber who specializes in woodland photography If you have time, please go ahead and watch some of his videos on YouTube.
They are very helpful in terms of photography but I find them also incredibly inspirational.
I love Simon's images – they show in an almost tangible way, how much he cares about the woodland.
Simon has a great eye for finding a strong story on location. The story of an image means to me more than the composition.
A brilliant composition alone makes you look at a photograph longer. A catching story makes you look at it again. Simon manages to combine both of these worlds.
My favourite image by Simon
You guys know I've become a sort of tree addict, so choosing one image by Simon Baxter was one of the hardest challenges here. But I've managed, here you go:
---
James Brew has one quality that I value immensely – the way he approaches 'shooting locally'.
He is based on the relatively small Isle of Man. Beautiful, but with limited photography locations to offer.
But James keeps coming up with new images and creative ideas on how and what to capture on his home island.
The intimate connection to the location is definitely reflected in James's work. Just like Ben Horne, you can tell that he deeply cares about the photography location. In the end, it is his home.
I love the variety of techniques that James tries out – it's definitely more fun than the same thing over and over again!
My favourite image by James
There is a couple of images I really like but the lighthouse under the stars always comes across my mind first.
---
Alex is not only a fantastic landscape photographer but also a serious outdoor guy. That helps him to photograph some unique hard-to-reach locations.
There is so much adventure in every single one of his images. You simply know it was really tough getting there. And you're happy to enjoy the view while someone else did the hard work.
I'm a fan of Alex's opinions on photography processing. I won't get into detail here but you can listen to his F-Stop interview here.
He's someone who tends to have a high level of realism in his own images. No crazy sky replacements, nor adding tiny hero influencers doing yoga on a cliff edge.
My favourite image by Alex
I couldn't really find the one image I had in mind on Alex's Instagram, so I took my second favourite! 🙂
---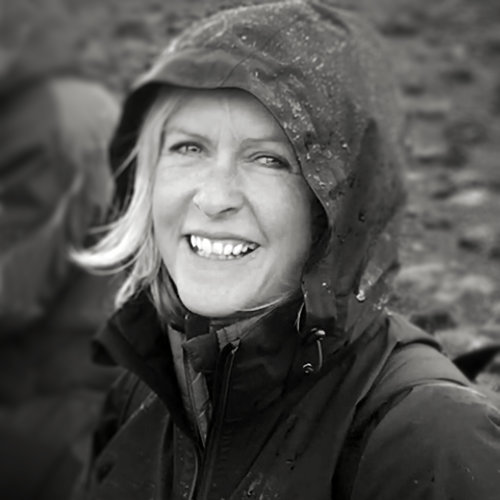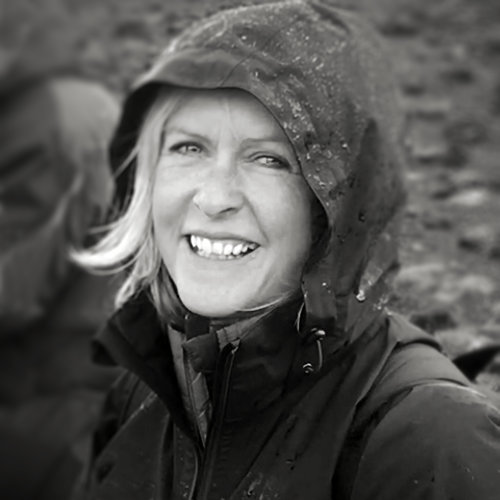 Rachael Talibart
While being active in other areas as well, Rachael's probably most famous work was created at the coast. Her series "Sirens" is something out of this world and you should check it out!
I can hardly imagine how much effort goes into Rachael's images. And how many attempts! I love the way she found this tiny niche within seascape photography, and is now absolutely crushing it.
There is some sort of minimalist drama in her images. Rachael often converts into black & white or takes advantage of the blue and pastel tones of the sea.
My favourite image by Rachael
Without doubts, Loki from the Sirens series is my number one.
---
I'm a huge fan of Adam. I think he really does have an exquisite photography eye. Besides being technically flawless, his landscape images make you think "holy cow, this planet really is beautiful".
And I'm probably not the only one – Adam is a proud holder of the title "International Landscape Photographer of the Year".
To me, Adam is a real master of light and composition. And that is the real value added when it comes to photography.
In the world where gear seems to be valued more than skills, there is so much to learn from Adam's amazing images.
I also enjoy very much the variety in his landscape photography. There is a lot of mountains, woodlands, as well as intimate landscapes and rather impressionist ones.
All thought through very well, subtle, not "in your face" kind of images.
My favourite image by Adam Gibbs
Not surprisingly, it's a tree. Should I place a bet on one image to get the next landscape photography award, it would be this one.
---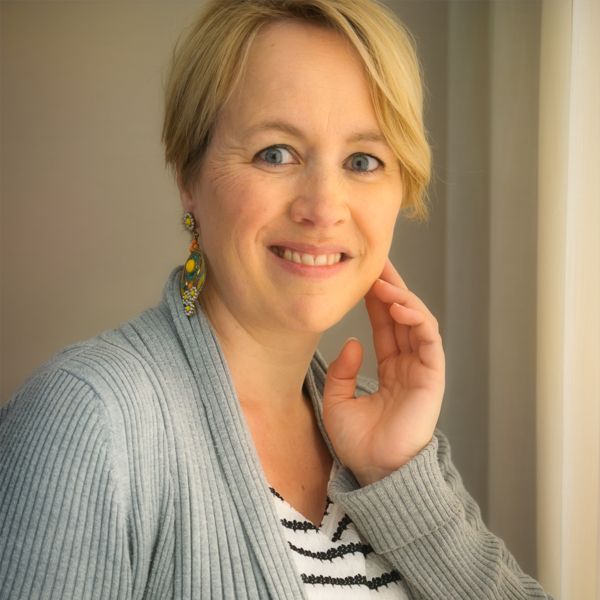 Ellen Borggreve
There are not many photographers doing the good old-fashioned blogging. However, Ellen is one of the few. And she does brilliantly.
Speaking of blogging, please consider subscribing to my photography blog, too! 🙂
Ellen's blog can really help you find your way in woodland photography. Or in photography in general. Especially, if you feel a bit lost or maybe focusing on the wrong things.
Looking at Ellen's portfolio, you cannot not notice all the golden and green colours, amazing sunrays and mystical fog. All the good stuff in woodland photography.
Her images are all about the mood. And similar to other great landscape photographers on this list, she shoots locally a lot.
You may recognise Veluwezoom, a beautiful Dutch National Park, from one of my own images.
My favourite images by Ellen Borggreve
And where do you get your inspiration? Who are your favourite photographers? Let me know in the comments!
Pin this for later: