This article contains affiliate links. If you use these links to purchase any item, I will get a small percentage which helps support my work at no extra cost for you. Any recommendations on this website represent my honest opinion.
Why looking for a woodland near you?
Not all woodland photos can be like those by phenomenal photographers Neil Burnell, Ellen Borggreve or Simon Baxter. And not all woodland photography locations can be so beautiful and enchanting as Dartmoor in England or the Atlantic Woodlands in Scotland.
Yet, the fact that they don't happen to live near those amazing locations seems to discourage many photographers from the activity as beautiful and fulfilling as woodland photography.
Yes, it does require much more research, planning and probably hiking if you want to find nice trees or piece of forest near you but the satisfaction level you get when you succeed is incredible. And you don't even need some crazy special gear!
Further benefits of doing woodland photography include training your photography eye, since finding compositions in the chaos of woodland is one of the hardest exercises you can do. Plus consider being out there surrounded by oxygen-creating organisms. It's just so stress-reducing and enjoyable!
Photographing trees around the area where I live may sound quite unexciting. Especially because the area I live in is Frankfurt, Germany. Heavily industrialized with one of the world's largest airport around the corner. Forests here are pretty much just a source of wood.
Yet still, it is one of my favourite photography niches. Maybe because the area makes the challenge even harder and the reward even more satisfying.
But enough of chitchat – I collected a couple of tips that helped me find some decent woodland locations. Maybe you'll find some of them useful, too!
1. Use good old paper maps to find beautiful forests and trees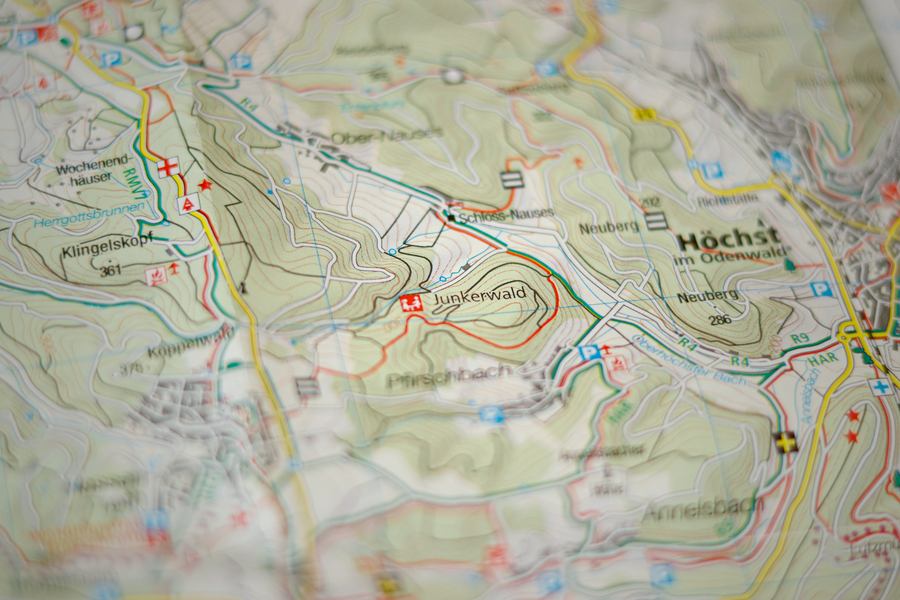 I love classic topographic paper maps. You can study them on the balcony while drinking a cup of coffee. No WiFi necessary. They are great as the very first step in finding the perfect woodland location for your photography. You can see protected landscape areas, hiking trails and other paths, streams, interesting sights like bridges, ruins or even unique trees! Contour lines give you an idea of how the terrain is structured. Getting such a map completely changed how I now see the area where I live!
2. Find woodland photography locations using modern technology
Now, physical maps are great for the initial research (and for escaping the digital world for a moment) but naturally, they lack the detailed information you can get online.
So once you find your location "suspect", ask the Internet if there are some images of the area or maybe even other photographers focusing on it.
The next step is Google Maps or Google Earth. Use the satellite view that gives you a rough idea about the forest structure, density and also about forest clearings that are often very interesting locations for woodland photography.
Last but not least, don't forget the 3D view which can be very helpful for finding spots described in the next point:
3. Look for terrain hardly accessible by forestry machinery
One of my greatest discoveries regarding location search in my area. As I mentioned, forests around me are mostly under forest management which means that they don't mostly look very ancient, natural or exciting. Don't get me wrong, they are still an amazing place for a walk but from the photography point of view? Not as much.
But guess what. Places that have difficult terrain and hence cannot be easily accessed by heavy forestry machinery are the holy grails for people like us! People trying to find exciting locations within rather a boring area.
So next time, look for steep slopes, narrow valleys, sudden pits or boulders scattered across the forest.
Such places are a good indicator of an old unkempt patch of woodland. Pure gold for photographers!
4. Search for order in the chaos of a forest
I find this one of the most difficult aspects of woodland photography. Try to go for a walk in a forest and just take a couple of snapshots with your phone. You'll probably soon realize that it's not that simple to shoot something interesting.
The problem is the number of distractions that basically any forest has. There's a fallen branch over there, twigs interacting with your subject, there are leaves and moss and bushes where you don't want them. As if that's not enough, all this chaos might be even multiplied by the light situation on a sunny day (dark areas contrasting with super bright spots).
The result of the immense woodland chaos is the total confusion of anyone looking at your final photograph.
Simplicity is the key to success. So your goal is clear – try to simplify as much as you can. Look for order in your composition, wait for a morning mist to cover the background and make the foreground pop, shoot on overcast or rainy days, or even better during sunrise/sunset.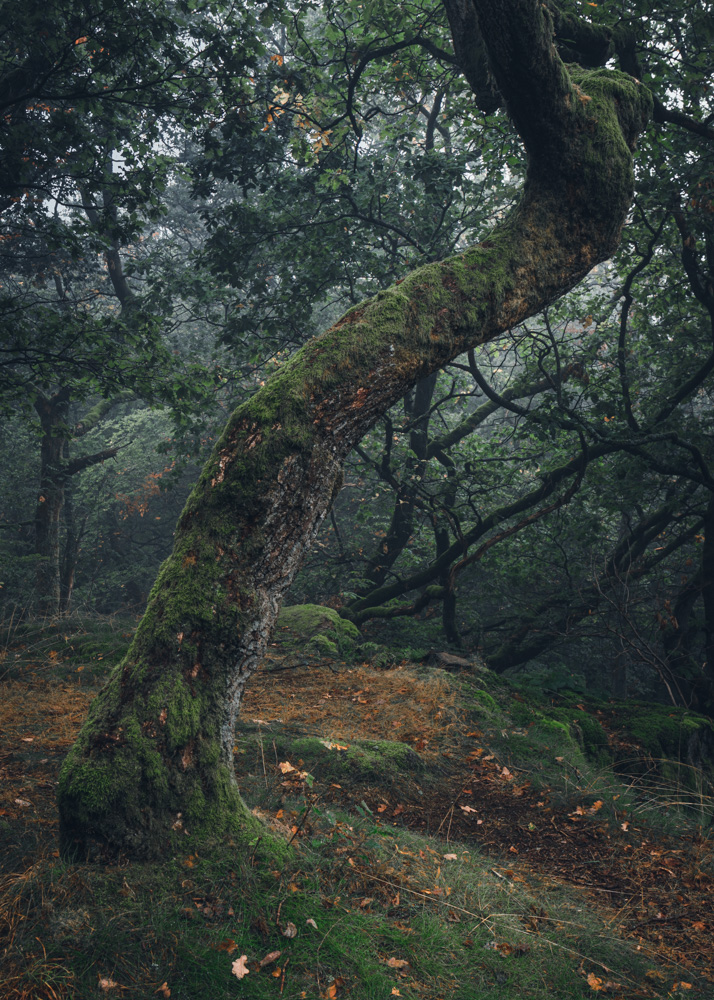 5. Look for something different or for something uniform
Another good idea while searching for your perfect woodland location is keeping an eye on things that are different. It could be anything – a lonely rock, a lonely tree, leaves of different colour or structure, a weirdly shaped tree or maybe a deciduous tree in the middle of a coniferous forest. These are just some examples of something that introduces interest in your photo.
Surprisingly, this tip can work also vice versa if you find something very uniform. Uniformity is what offsets chaos. And since chaos is generally not what you want to avoid, uniformity is a good option.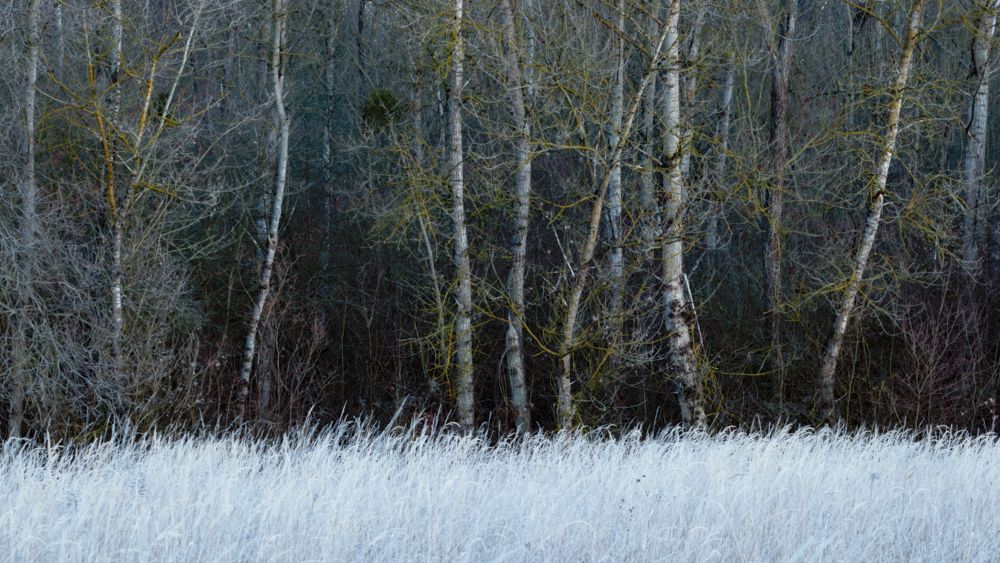 6. Change perspective to find your perfect photography location, trust your feelings rather than composition rules
When you finally spotted a potential subject of interest, explore it, don't try to take an image immediately. In forests, even the smallest change of perspective creates a huge difference! I like to walk around my scene in a circle (where possible). Or rather in a spiral – that way I can see also how the perspective changes closer to the subject.
Now, regarding the composition rules – I don't say you should totally ditch them. But let's just say that forests are a bit different animals. I personally find much better those of my images where I relied on my gut feeling or a story, rather than on rules-following.
I feel like connecting with the place and attempting to truly capture its atmosphere might mean more than finding a perfect leading line.
7. Repeat in different conditions
Don't despair if you couldn't find any good woodland location on your first attempt. You'd be very lucky if you did! The nice thing about nature is that everything changes. Mornings differ from evenings, winter from summer, sunny days from rainy days.
Try to think about the element of constant change while walking through a forest. And then come back, repeat and then do it again. You get the idea. 🙂
8. If nothing works out, experiment!
Sometimes, you just won't be lucky in search of a new location. But is that the end of the world? No. Try something completely different!
For example – visualize a scene you found with some very radical editing. Or even as a part of a composite. Make it a long-term project! Or focus only a specific colour in the woodland around you and shoot the hell out of it. Experiment with intentional camera movement. Get creative!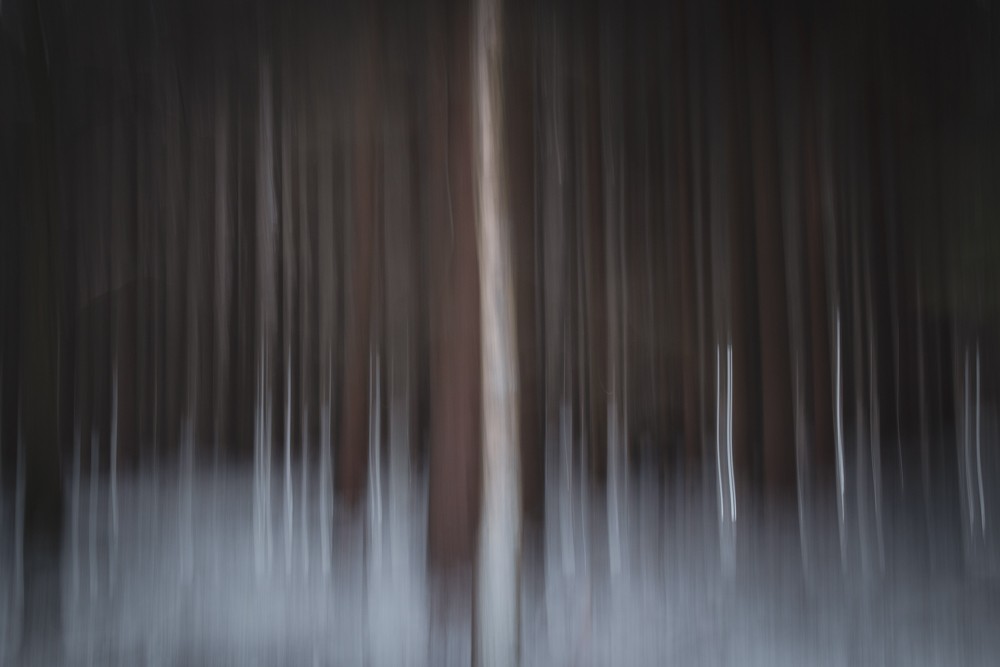 And that's it about fantastic woodland locations and where to find them. So go ahead and find your own! And don't forget to let me know how it went in the comments. 🙂
Pin this for later: