Geroldsee (also known as Wagenbrüchsee) is for sure one of the most iconic landscape photography locations in southern Germany. In this post, I'll explain how to get to this hidden idyllic gem of a lake and give some other good old piece of advice for visiting and photographing it.
*Disclosure: This article contains affiliate links. If you use these links to purchase any item, I will get a small percentage which helps support my work at no extra cost for you. Any recommendations on this website represent my honest opinion.

Getting there
As usual – how to get there? In fact, it is quite easy. Your base camp will most likely be Garmisch-Partenkirchen (Ga-Pa). This city is with its 27 thousand inhabitants the touristic and commercial center of the area and is easily reachable by train or car from Munich (about 1.5 hours). Sadly, the road between Munich and Ga-Pa can get really busy and traffic jams are nothing unusual (that is the case for the entire area). You can also rent a car directly in Ga-Pa to save you some stress.
By car
Once you're in Garmisch-Partenkirchen, the way to Geroldsee is not at all difficult. By car, you'll be there in about 10-15 minutes (simply bash "Gerold", the small nearby village into your SatNav). I didn't find any dedicated parking area in the village. However, you may park on the side of the main street, see the little map below. Just park neatly, big buses are driving through Gerold.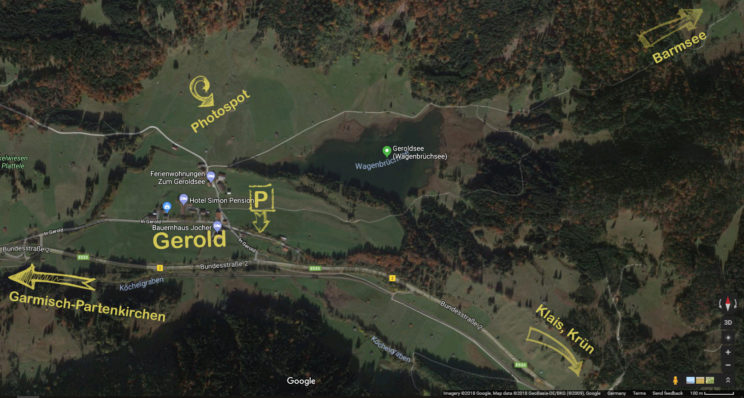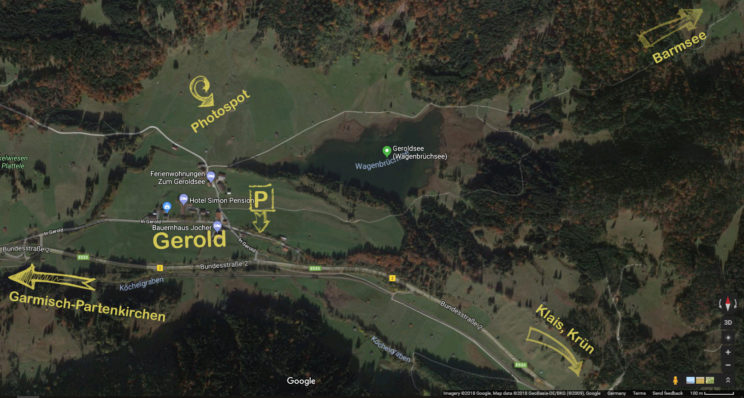 This is a map of the area – village Gerold where you can park and a short walk to the photo spots above the village. Take the 3-lake tour going to Barmsee and Grubsee, too! (click on the image for full resolution!)
By bus / train
You can even get to Geroldsee by train (the first train leaves Ga-Pa at around 6 a.m. and stops in Klais – 35 min walk from the lake) or by bus nr. 9608, which even stops in Gerold. Just check out this website, where you can find the timetable and purchase your tickets.
Hike
Yes, for the most adventurous souls among us – there is also a hiking trail between Ga-Pa and Geroldsee (ca. 12 km, 3-4 hours one way).
Photographing Geroldsee
Right, back to business – photographing the lake. The destination is pretty known among photographer for spectacular sunrises (I wasn't that lucky but you might be!). Located in a valley with alpine cabins scattered all over the hill leading to the lake, you get a very idyllic scenery. Since there are lush forests around and the lake itself, there is morning mist rolling through the valley almost with certainty (a bit like in the Castle Eltz area).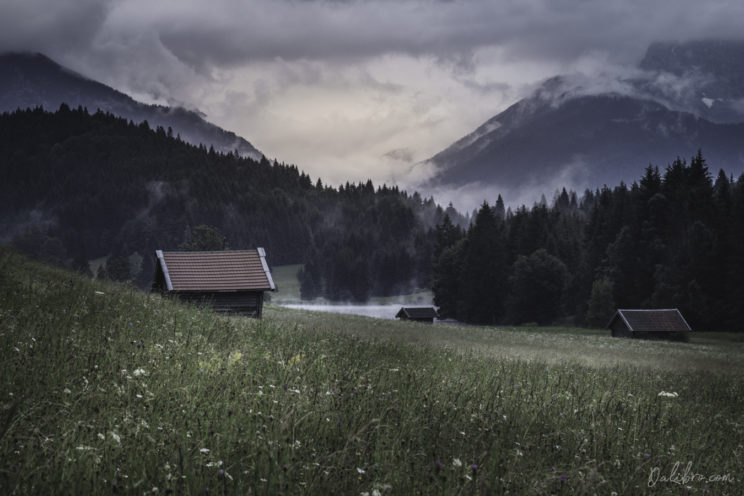 So once you arrive for the sunrise (try to be there at least 30 minutes before sunrise to find your composition), simply walk up direction alpine cabins. If you're lucky, the grass on the meadow will be mowed and you can get very high, almost to the forest, where the views are best. If you're not that lucky (my case, you guessed right :D), the undergrowth can be as high as 1 meter (3 feet) and very wet. Not recommended.
From a photography perspective, Geroldsee loses the magic a bit during the day. Still very worth for hiking, though! If you do an afternoon tour (you can do a 3-lake tour leading you around nearby Barmsee and Grubsee, ca 1-2 hours), you might want to get to the spot described above and stay for the sunset. If you're lucky, you'll get nicely lit red-ish clouds all over the place (the sun will be setting behind you).
Setting your camera
That will depend on the weather conditions and the time of the day. If you're all about using filters, a gradient filter might be useful for sunrise, since your shooting almost against the sun. For the photos of the valley here, I used the dynamic range of my camera.
What is dynamic range?
Dynamic range is used when there are significant light differences in your composition. E.g. shooting against the sun, the sky is very bright but the alpine cabin in your foreground very dark. This setting allows you to shoot the same image three times - underexposed, exposed correctly and overexposed. By doing this, you make sure you have the correct exposition of the sky as well as the alpine cabine. Then you can combine these images in Photoshop without losing quality.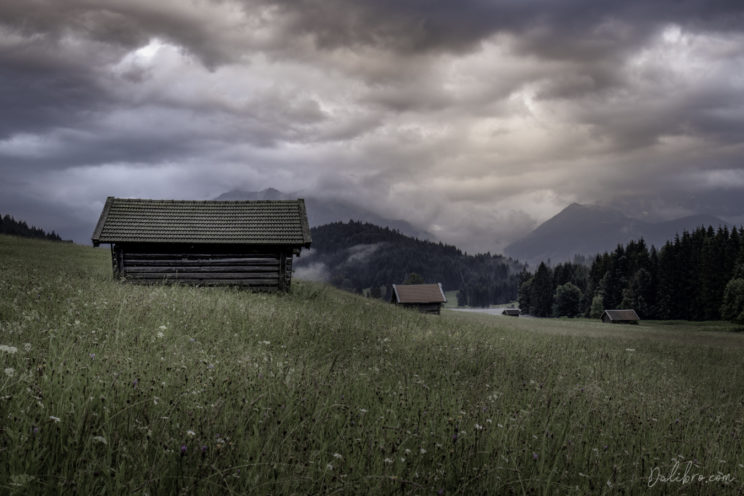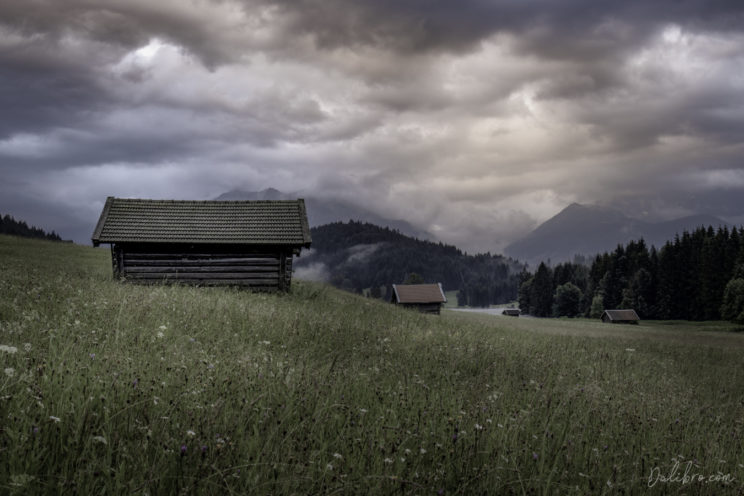 Explore the area
My last tip for photographing Geroldsee – don't get too distracted by the obvious! Yes, the valley scenery is beautiful but look around as well! The fog rolling through the forest on the opposite side of the valley immediately caught my attention and led to this dreamy minimalistic image below. It was there for only about 10 minutes and then it was gone. Having a long lens with you is, therefore, a great idea.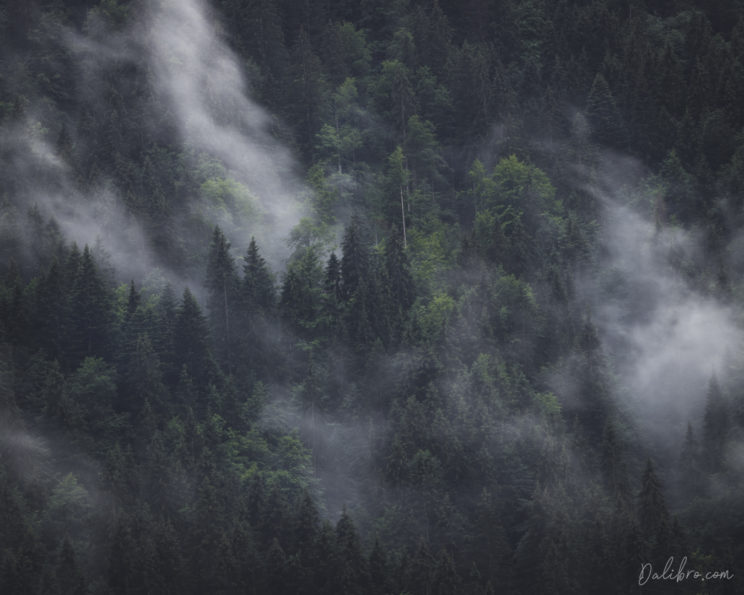 After the sunrise, I explored the area a bit more and found this beautifully symmetrical composition. I would definitely recommend doing the 3-lake hike (Geroldsee, Barmsee, Grubsee) for more location scouting in the area!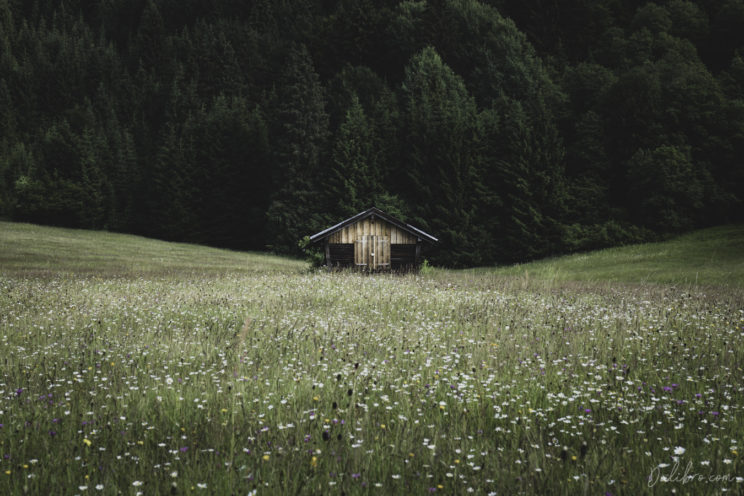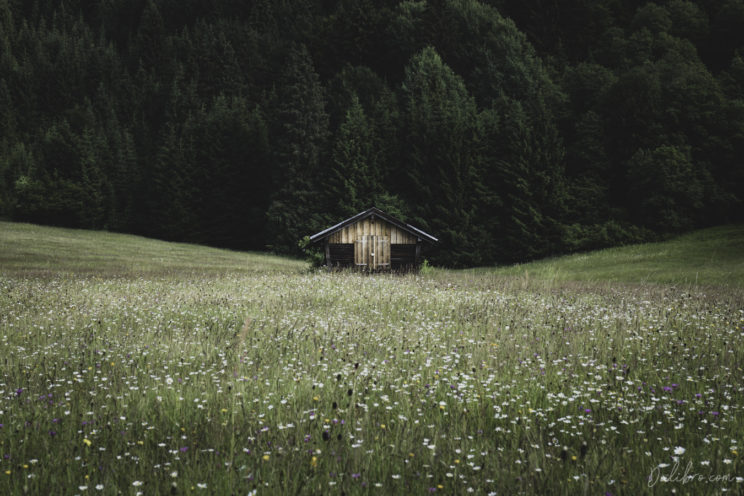 Where to stay in Garmisch-Partenkirchen
Ga-Pa is certainly not a cheap place. If you want something fancy and with flair, you have arrived to a great destination, though. If you're like me on a tight budget, you'll want to consider Hostel der Athleten. Don't worry, I'm still a passionate hostel-hater but this one was quite OK (not as spectacular as my hostels in Iceland) and the price unbeatable. It is located right next to the ski jumping area in southern part of the town.

What else to visit when around
Oh, there are tons of other places to see besides Geroldsee! Eibsee is very close to Garmisch-Partenkirchen, Sylvensteinsee with its beautiful curvy bridge 40 minutes drive away. You can hike to Partnachklamm (Partnach Gorge), or to the idyllic village of Wamberg, or generally enjoy a loooot of hiking in the area. And of course Garmisch-Partenkirchen itself!