Those who read my blog regularly or downloaded my free ebook about improving your photography will know that I do not particularly enjoy crowds. I'm also the solely and therefore the biggest supporter of my own theory called "decentralized tourism". What it means is going not only to places that are notoriously known and infinitely repeated on social media but also get off the beaten path a bit, do some old-school research and explore new locations.
*Disclosure: This article contains affiliate links. If you use these links to purchase any item, I will get a small percentage which helps support my work. Any recommendations on this website represent my honest opinion.
I felt it was about time to prove again how the decentralized tourism is enriching. See, when someone visits the Czech Republic (or Czechia if you like), they usually one city – Prague. And I get it, Prague is a real jewel, not only in Europe but in the whole world. But Prague is not the entire country! In fact, there are so many beautiful places in my homeland that I'm surprised they are still not all over Instagram.
One of them is Nové Město nad Metují [ˈnovɛː ˈmɲɛsto ˈnad mɛtujiː], small and very quiet historical town (ca. 10.000 inhabitants) in north of the country, where I spent a night. Its long name literally means "New Town on the Metuje". Metuje is name of the river around the town.
How to get there
By car
As you can see on the map, it is not very far from Prague, about 160 km by car.
By bus
There is even a direct bus connection between Prague (UAN Florenc – the main bus station) and Nové Město nad Metují. You can check it here. You may change the site language in the bottom right corner of the form.
By train
And finally, the train option. I don't like bus rides, so I went for that one. It is the longest option, though – it will take you something between 2.5 and 3 hours and you'll need to change trains 1-3 times. Check out the schedule here. You can also buy the ticket online, you'll just need to print it out. By the way – you're allowed to get on any CD train with your CD ticket (CD=Czech Railways) as long as it's going on the same route as stated on the ticket. Which means, you can simply hop on the next train going to your destination in case you miss your connection. Which is pretty cool.
Photographing Nové Město nad Metují
Now, Nové Město nad Metují has a couple of beautiful historical buildings but one really stands out – the Castle and its pretty garden.
The garden is only open May to September (9 am to 4 pm, in summer months until 5 pm). There is a parking area at the garden or at the Square – the Castle has 2 entrances (one from the square and a lower one from the garden's parking area). Check out the area map below where I also listed my favourite photography motives: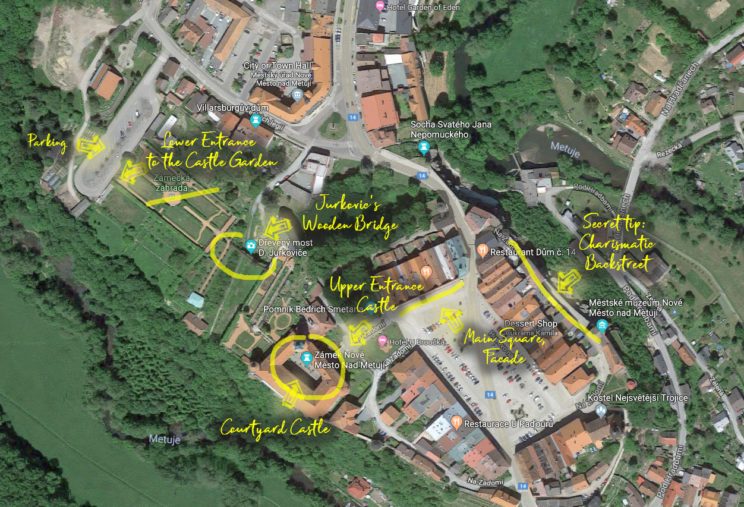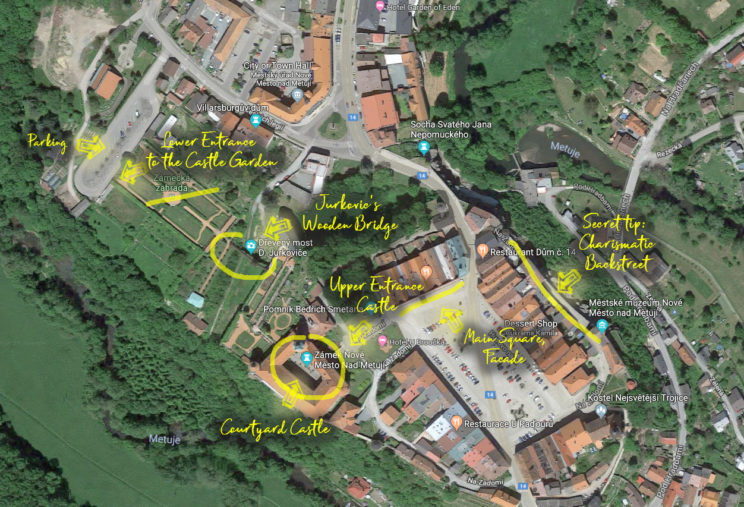 In general, I was glad to have my 10-18 mm lens in my bag. So I could go very wide (as you can see on the images). I'd also recommend having a tripod with you to prolong the shutter speed in low-light conditions, summer evenings are very nice in Nové Město nad Metují!
The Castle Garden
Probably the best spot in town and the main reason I wanted to visit Nové Město nad Metují. Just walk around the garden and explore – the main motive for photography is obviously the castle and also the fountain in the middle of the garden but you'll certainly find some new subjects and perspectives. 🙂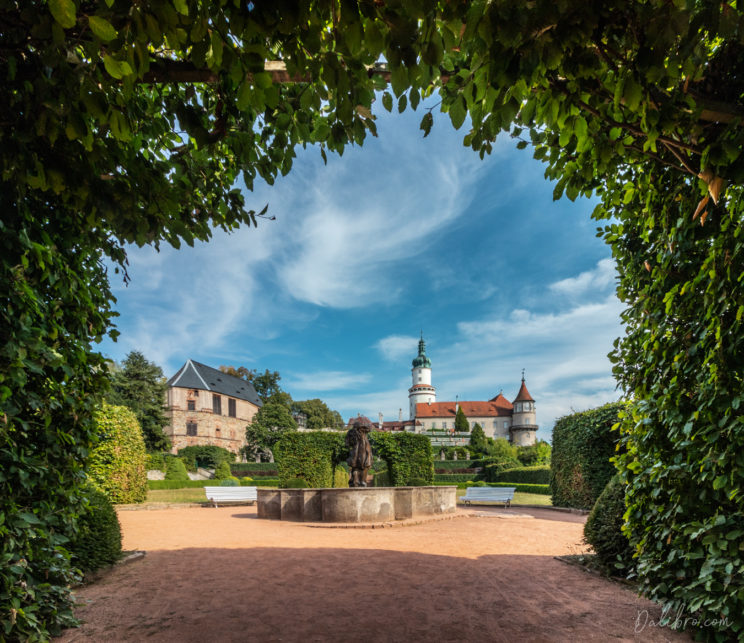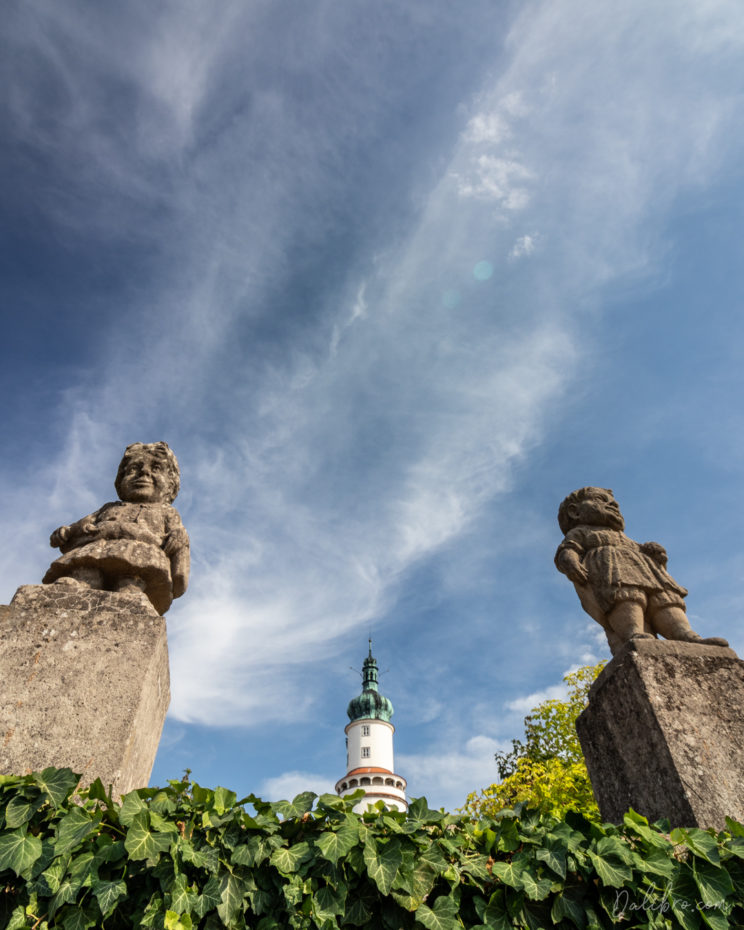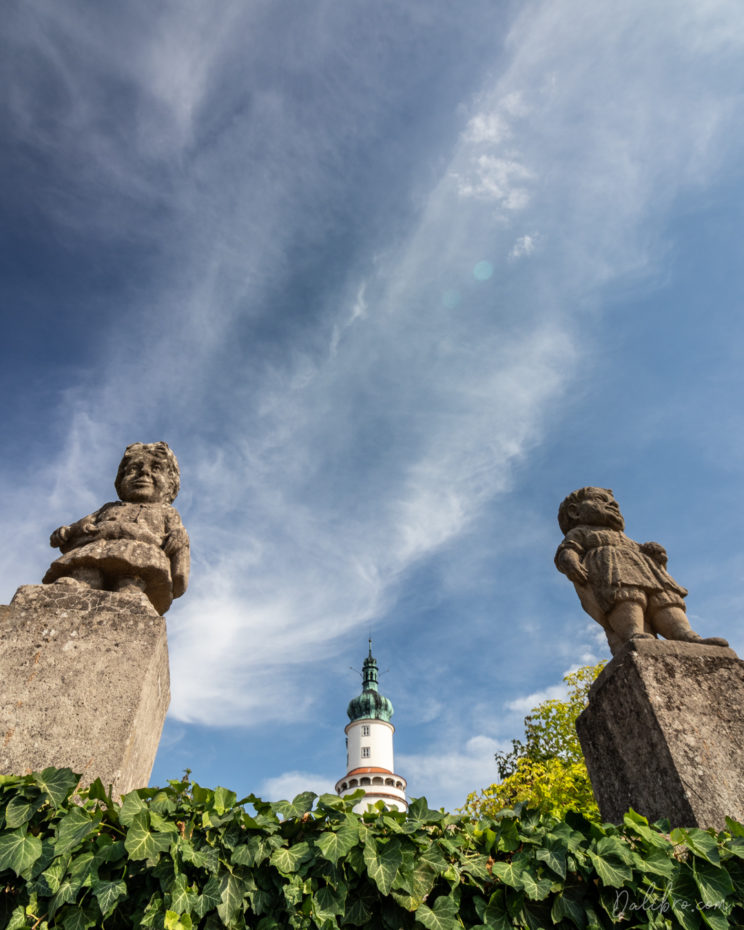 Jurkovič's Wooden Bridge
This unique wooden bridge (built in the beginning of the 20th century) by Slovakian architect Dušan Jurkovič connects the Castle Garden with the Castle. During summer, you can walk through it. There is also a path going under the bridge, which is interesting.
Photographing the bridge AND the Castle is a challenge since there is not much space. That means you should have a very wide lens ready.
Note: there was quite a large scaffolding on the slope north of the bridge (you can see it on the image below.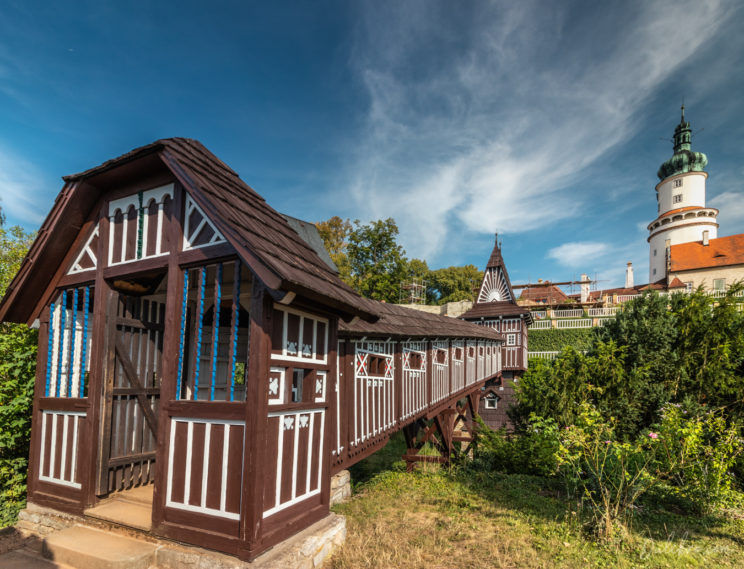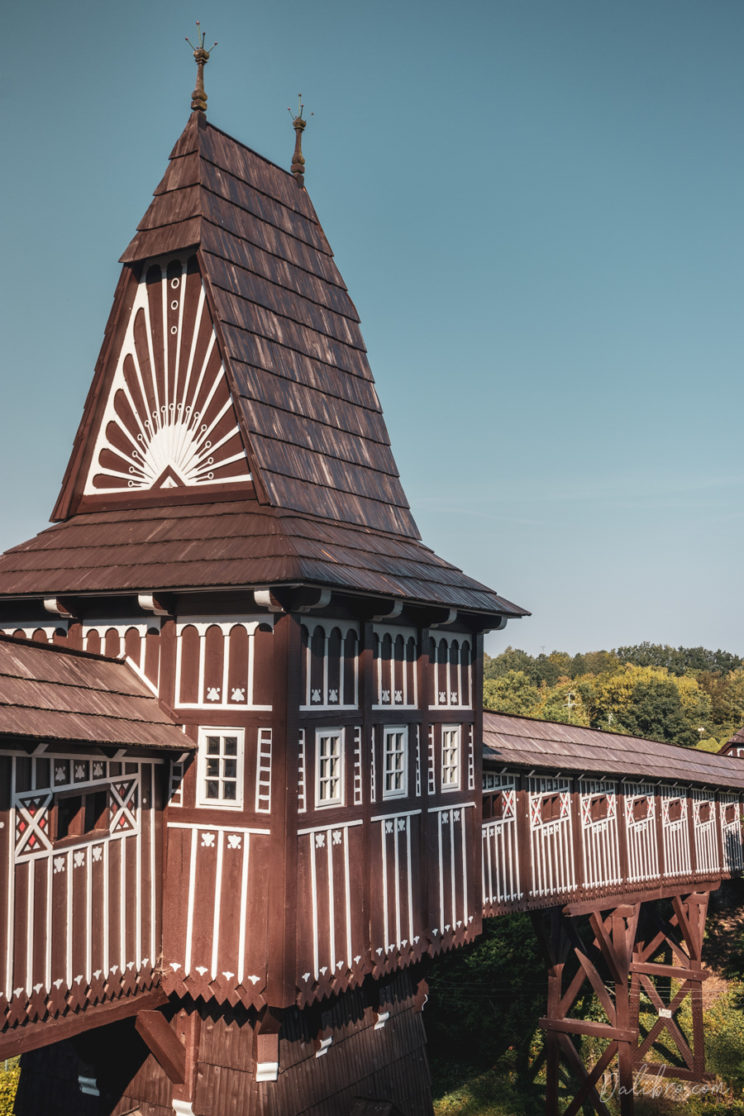 I loved walking through the bridge and found this spot very interesting – you can see the castle through the window in the bridge, so you can frame it very nicely.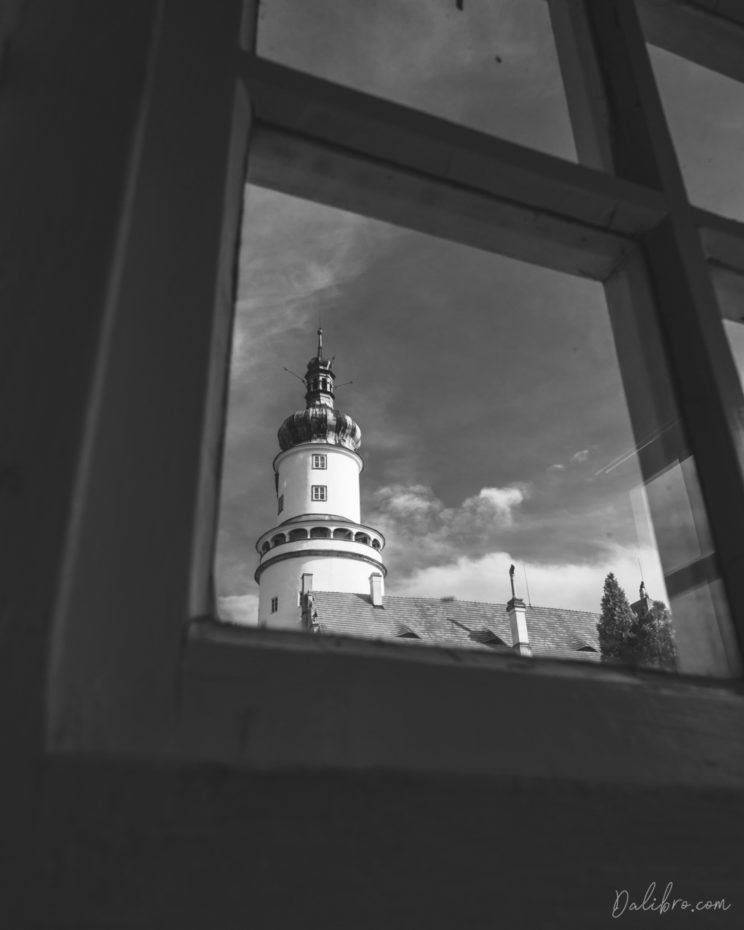 Castle's upper entrance
I loved the upper entrance to the castle which is guarded by two big bears on each side. It looks quite epic, especially in night.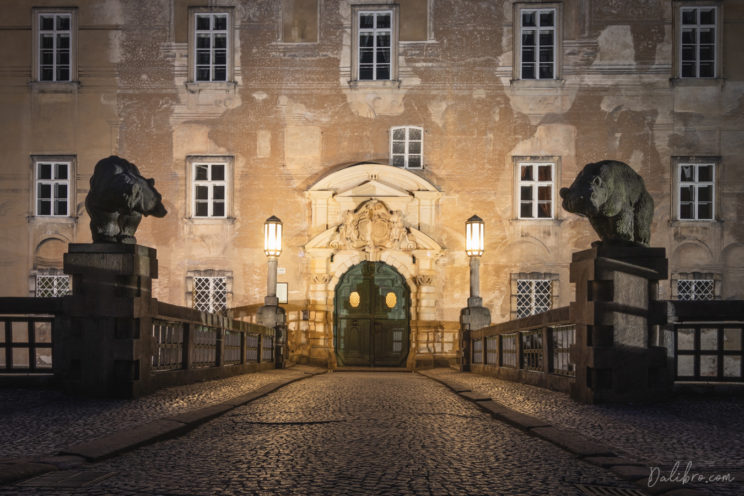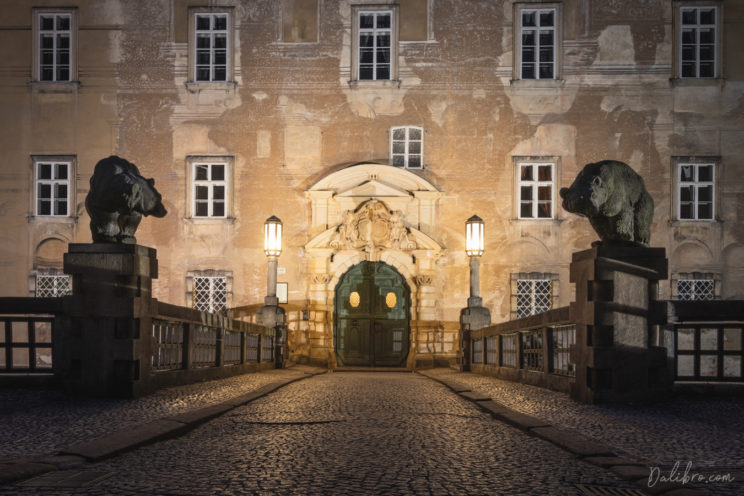 Main Square's Facades
The entire square is a parade example of typical Czech architecture – arcades providing shade in summer and cover you from rain in winter. And of course beautiful facades facing the square. Unfortunately, cars are allowed to drive through and park on the square – so it is surprisingly busy. So I'd recommend focusing on details, architecture and interesting composition, rather than trying to photograph the entire square.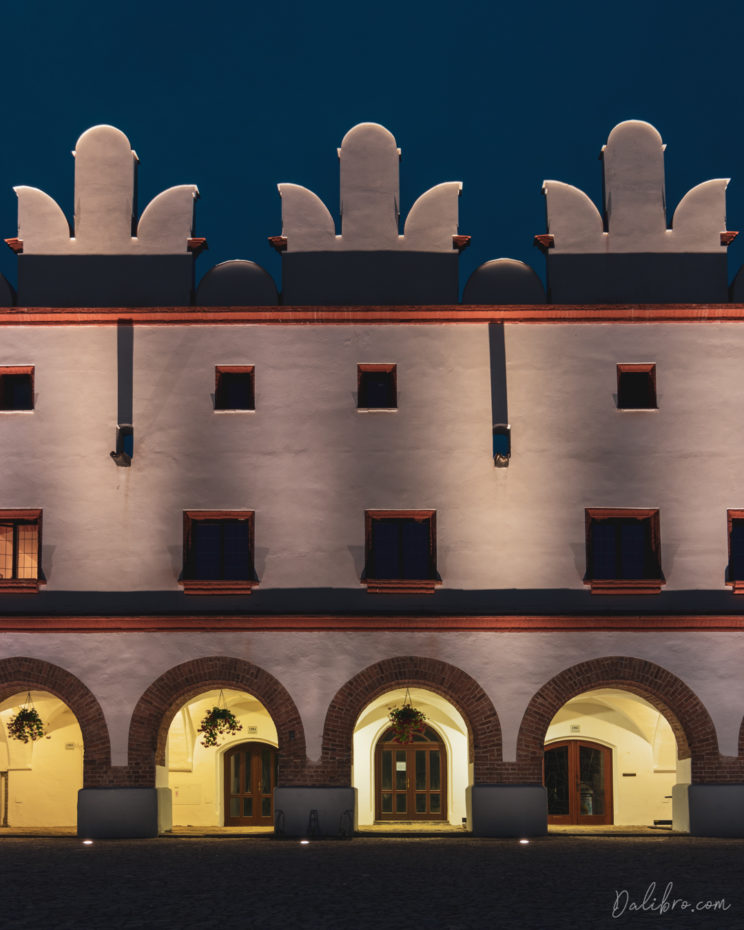 Backstreet "Na Zadomí"
This street is a secret tip of mine. The lane is a bit hidden behind the the main square's houses. It has a slightly shabby flair of "forgotten". There is a couple of nice details worth photographing but it is also a romantic place with a view. It is right on the town wall, where it would be nice to drink a glass of wine with your loved one.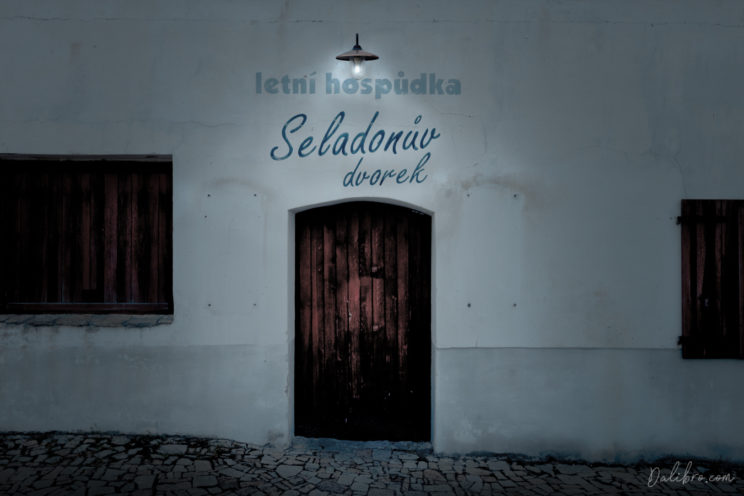 Where to stay in Nové Město nad Metují
You have a couple of options where to stay. I chose Hotel U Broučka, which was only 25€ per night. No luxury but fantastic location right at the Castle. By the way, if you're feeling aristocratic, you can even book a room in the actual castle.
Where to eat / have a drink
U Broučka
The hotel where I stayed is actually also a restaurant. As an almost-vegetarian, I didn't love the menu very much but having a beer after a hot day in their little beer garden right next to the Castle was simply sublime.
Café Monastero
I absolutely enjoyed having delicious breakfast there. Also their cakes seem to be pretty legendary in the town.
Zámecký bar/restaurant
I did not visit it myself but the food looks simply delicious and location is splendid.
What are your thoughts? Ever visited the Czech Republic? Let me know! 🙂