Let's get this straight – walking around Valletta, Malta's capital is pretty much like walking through a very big and very colorful open-air museum. The city was also chosen for the European Capital of Culture 2018 and I can totally understand why. So choosing only 3 best locations for photography is, let's say, quite minimalist (and of course very subjective). But let's give it a try!

*Disclosure: This article contains affiliate links. If you use these links to purchase any item, I will get a small percentage which helps support my work at no extra cost for you. Any recommendations on this website represent my honest opinion.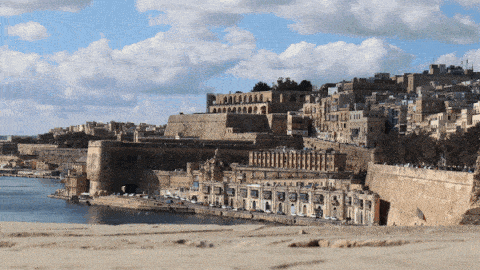 1. Triq Zekka Street
Triq Zekka is a long street finding its way from the west to the east through the entire Old Town of Valletta, Malta. It creates a nice effect as it starts on a hill in the western part, goes down in the middle and then rises again. The street creates a perfect leading line to the point of interest – the Dome of Our Lady of Mount Carmel, a symbol of the city. That is really the cherry on top!
There is one tiny drawback – the street is relatively dark in comparison to the sky, so a good dynamic range or post-processing will be necessary (see my previous article, where I talked about Dynamic Range). My MacGyver-quality solution was a polarizer, which did surprisingly well and darkened the sky OK.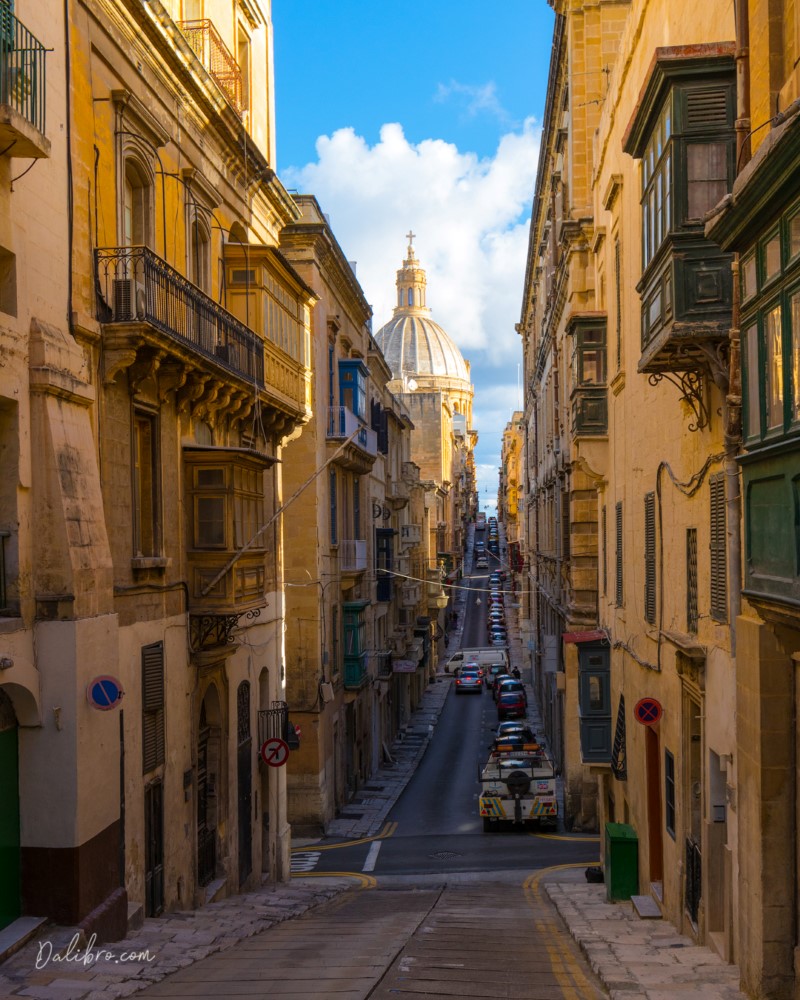 In the evening, you may get some really amazing sky in the background.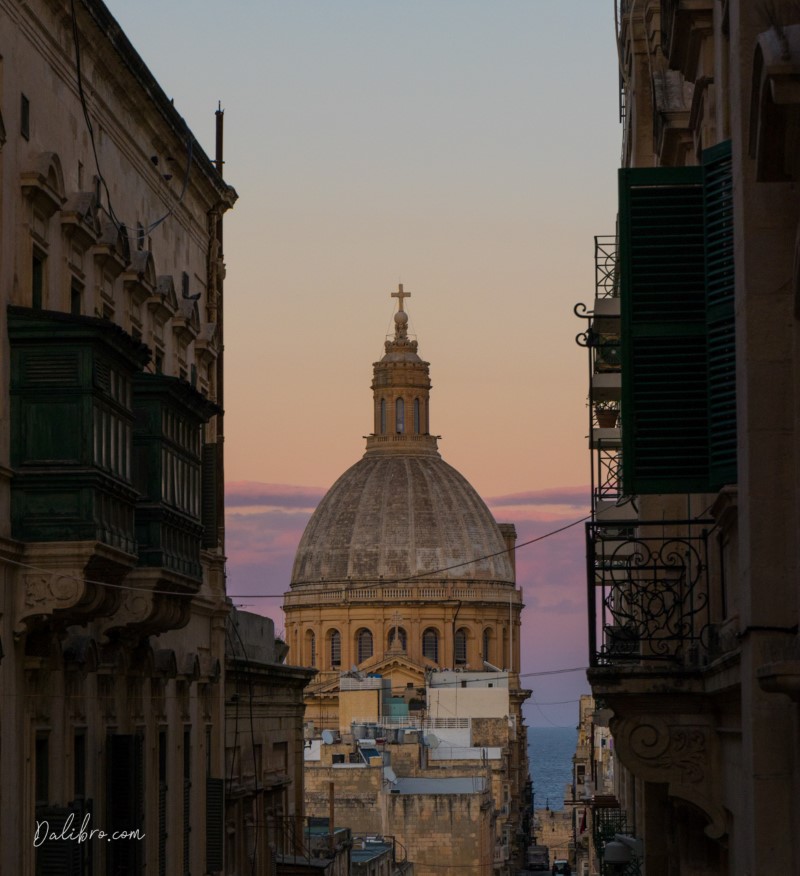 2. Parking lot in the northwest of the Old Town
Yes, that's right. One of the best spots in Valletta for photography is a parking lot. I can assure you that not much is going on in terms of tourists and just look at that view! Perfect location for sunset.
As it might be a bit tricky to find, here's the Google StreetView:

Plus, there is a restaurant called Giannini right there, which is supposed to be really good.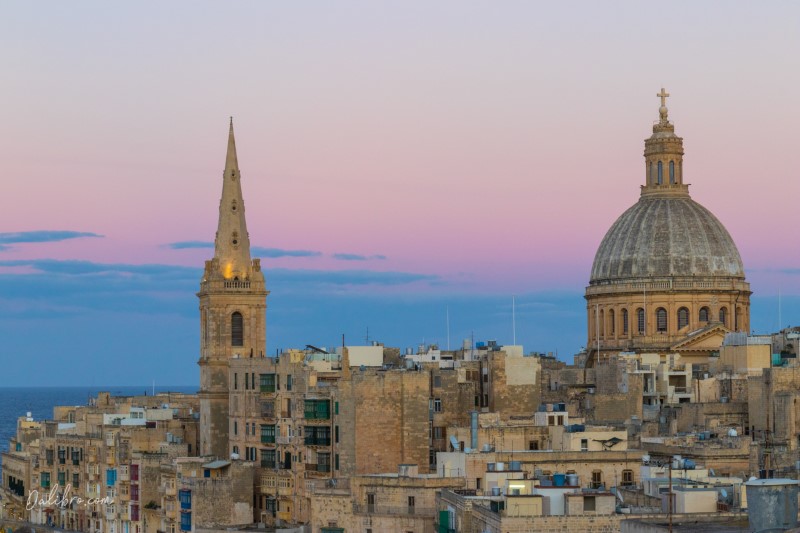 3. Cute balconies – pretty much everywhere
Grab a 'ftira' (traditional, sandwich-like or pizza-like street food) and take a random stroll through the old town. Always look up – there are so many of these beautifully vintage colorful cool balconies around! From the photography equipment – having a wide lens with you is definitely a good idea, as there is usually not much space in the streets. And as usual – a tripod is useful if you want to keep your images noise-free.
Would you believe this one below is actually a bar in the southern part of the Old Town? It's called Bridge Bar, it has quite a vibe, people often stand or sit outside enjoying their drinks and it seems to be on a bar bucket list (is there such thing?) of everyone visiting the city. Still – seriously cool location.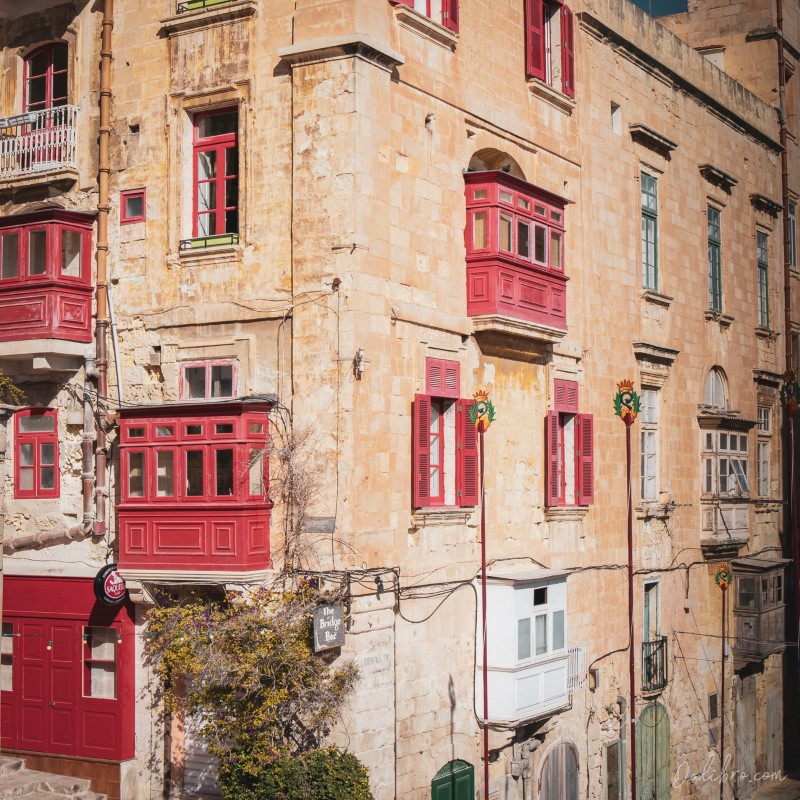 +1. Hotel room La Falconeria, Valletta
Alright, I realize, this one is not for everyone. Which is why I marked it as +1. But! If you're lucky enough to get a room with a balcony at hotel La Falconeria, you won't regret a penny.

I enjoyed sunrises from the room in particular. Normally, photographing a sunrise somewhere involves getting up really early, traveling and hiking in the dark and so on. Here, I only had to get out of my decadently comfortable bed, set up my tripod on the balcony and enjoy the luxurious view.
I also took this image below from inside of the room and included the window for framing my subject in the shot (the Dome of Our Lady of Mount Carmel). By the way, if you'd like to know more about framing, leading lines and other useful photography stuff, make sure you subscribe and get my free ebook. 🙂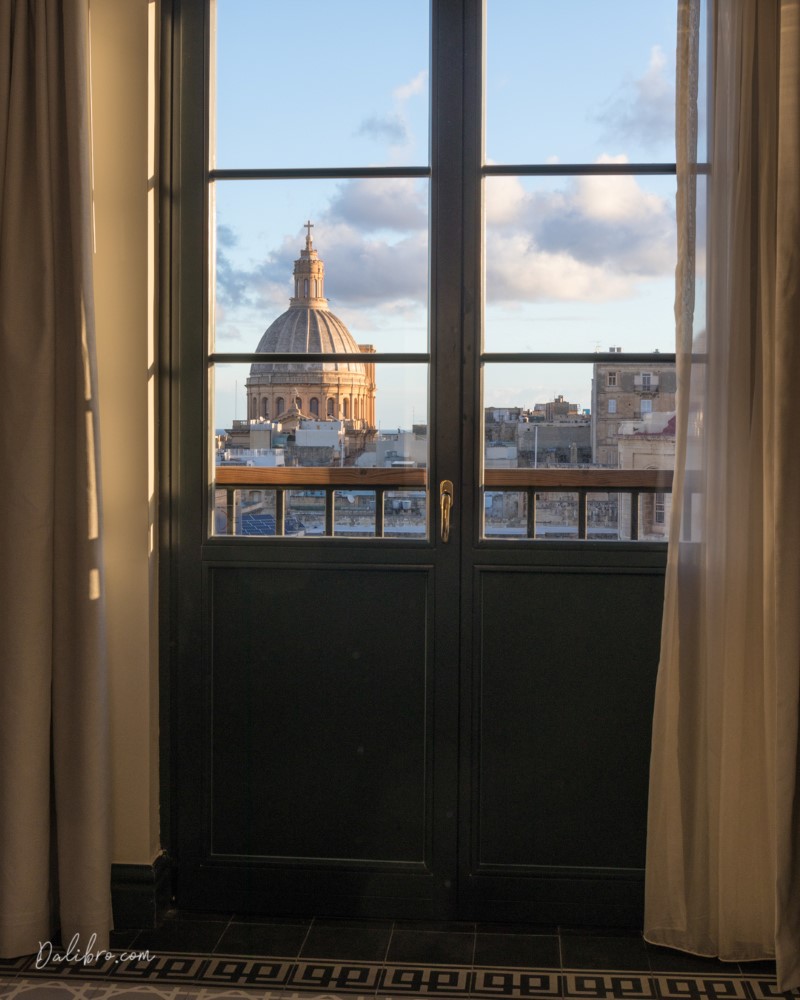 One last tip. Unless you want to go for a swim, Malta is a year-round destination. It can get really hot in summer but winters are mild and moist. So don't be afraid of going in winter. All my pictures were actually taken in January!